It is so weird to finish up this surge of Christmas quilts these past few weeks because it's requiring me to go back and re-read the posts I wrote about them when I started them, and wow. So much has gone on, especially since I started working on the Patchwork Forest Quilt in the autumn of 2019. I randomly decided to jump on the quilt along bandwagon that Amy put on that year, and it was a great experience that I immensely enjoyed. It was a sweeter time: My niece had just been born, I was homeschooling Nathaniel, things had finally settled down after the move up here…it felt like we were really getting ready to live "happily ever after" during that autumn.
I keep talking about this quilt as "the one I made before COVID," which is weird because there were a couple of other finishes before COVID really got its wheels turning, but this quilt feels like the last one I made before things started getting stressful with keeping an eye on the development of the COVID situation, so in my mind it's just from "before."
I had originally planned to big-stitch hand quilt it, but ended up hating the actual work of it and ripped out the hand quilting after a week's progress. Then Christmas was over and I set it aside to bring back out when Christmas 2020 got closer so I could finish it then…
But I don't think I had the desire at any point during 2020 to pick it back up to finish for Christmas. Last Christmas is just a fogged-up murmuring in my memory. When I had the thought to maybe try to finish it this year, I almost cried: The desire, ambition, drive in my heart was finally back. We got through Hell and came out on the other side and some things are still relatively the same. When my drive to finish projects dried up towards the end of last year, I knew I was stressed and anxious beyond my max and to leave the crafty side of things alone and just focus on surviving. I've been through that particular cycle enough times in my life to know that it's a temporary adaptation to stressful situations, and I allow it to run its course, knowing that the fabric and the yarn will wait for me to come back. The fabric and the yarn don't judge. Thank the stars for that.
This quilt is twin-sized (~72″ x 90″), and Renaissance has claimed it temporarily for her bed until I make her requested Christmas quilt. (The plan is to do that in 2022.)
Details:
Pattern: Patchwork Forest Quilt, Pine Hollow version, by Amy Smart of Diary of a Quilter.
Fabric: I used lots of well-loved Christmas scraps, random half-yard purchases, and forgotten Christmas fat quarter bundles for this quilt and had so much fun with the color palette. I absolutely love this quilt. A friend of mine called it the "Hipster Christmas Trees" quilt, and the name stuck; I actually have to go and look up my previous posts to remember what its real name is when I write about it.
Backing: A lovely, thick black and white plaid Mammoth flannel, #SRKF-16943-1 WHITE. This quilt is heavy. It's amazing.
Quilting: I went beefy with the quilting thread, using Aurifil 12 wt in the top and Aurifil 40 wt in the bobbin, color 2021. I eyeballed straight lines about 2.5 inches apart, and I love the slightly wonky unevenness of the quilting because it matches the slight wonkiness of the tree blocks. I also used black Auriful 12 wt to quilt the black inner border, and then returned to the white Auriful 12 wt to quilt a few lines in the blue outer border. (Note to self: Straight line quilting only with this thread; the machine did NOT want to do a serpentine stitch AT ALL…)
Binding: I decided to do a scrappy binding because 1) I couldn't decide which fabric to choose for the binding, 2) I don't think I had enough of anything to do a full binding, and 3) The more wonkiness, the better on this quilt. It was an extension of the fun to randomly piece together the scraps into binding while I watched "A Christmas Story" earlier this week!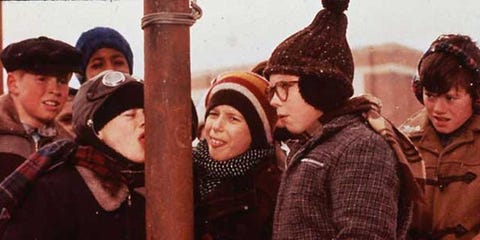 Dates: I pieced this in October and November of 2019, and quilted it in December of 2021.
We were busy making epic amounts of Christmas cookies on the day I took pictures of this, and I left it hanging on the couch afterwards. Renaissance was a cookie-making machine; she baked from 8am until 5pm and was absolutely exhausted come dinner. She decided to go to bed at 7:30, happened to see the quilt on the couch as she headed to her room, and wordlessly scooped it up before trudging up the stairs. When we checked on her later, she was out beneath her new quilt, hopefully dreaming sweet Christmas dreams.